Main content starts here, tab to start navigating
Luke's At Home
Now Available By The Pound and in the Frozen Seafood Aisle!
Our Seafood Market for Cooking At Home
Looking to cook with our best-in-class sustainable seafood back in the comfort of your own home? Our seafood is now available in either half pound containers or as part of our DIY roll kits. By purchasing our seafood, you're helping our friends and suppliers to keep on fishing! Call your local shack to place your order and we will safely prepare it for takeout. We'll also be adding these options to all our online ordering and delivery services. Looking for some recipe inspiration? We've got you covered!

Lobster $50/lb or $25/half
Crab $30/lb or $15/half
Shrimp $20/lb or $10/half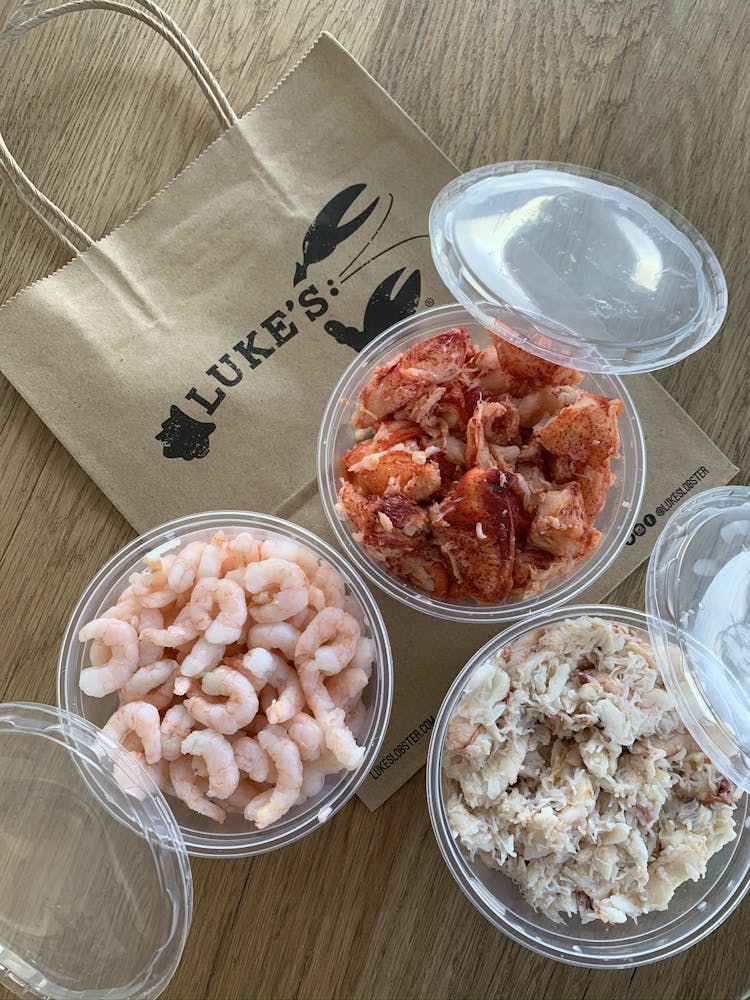 Luke's Lobster in the Seafood Aisle
Don't live near a Luke's and missing your fix? Fear not! Our seafood company has been hard at work to bring our best-in-class lobster across the country to a grocery store near you. Available nationally across the U.S. at Union Market, Wild by Nature, and almost all Whole Foods locations, we're very excited to bring a taste of Maine to our fans far and wide with Luke's at-home lobster kits. We're proud to be giving a percentage of sales of our lobster kits sold at Whole Foods right back to the source: our partners at the Tenants Harbor Fisherman's Co-Op and Cranberry Isles Fishermen's Co-Op in Maine.
Need inspiration? Check out some of our lobster recipes and get cookin'.
Come find us in your grocery store and pick up a kit today!
Caraluzzi's Market Store Locator
Clark's Nutrition and Natural Foods Market
Lassens Natural Foods + Vitamins Store Locator
Straub's Fine Grocers Store Locator
Other questions? Shoot us an email at retail@lukeslobster.com!
Ready-to-Eat Maine Lobster Kit
With our ready-to-eat wild Maine lobster kits, you can enjoy a taste of New England no matter how far you are from the coast. Featuring the prized knuckle and claw meat we use in our lobster rolls, and a packet of Luke's secret seasoning, all you need to do your best Luke's impression in your own kitchen is mayo, lemon butter, and a pair of buns. And if ever you're not in the mood for a lobster roll (as if!), the perfectly cooked lobster meat lends itself swimmingly to a host of pasta and risotto dishes, pizzas, crostini, salads, and more.
Our superior lobster is the result of decades-long relationships with the finest lobstermen in Maine, and our top-of-the-line seafood facility where the lobster is immediately separated and exactingly steamed to preserve freshness and quality, while ensuring that each individual piece of lobster is cooked to perfection. Compared to lobsters shipped live, whose quality and flavor begins to degrade each minute they're out of their natural habitat, our expert process results in the best, sweetest tasting meat; the only other place you'll find lobster with flavor like this is on a dock in Maine!
Each kit contains:
1/2 pound Luke's Lobster Knuckle & Claw Meat, (frozen and ready-to-eat)
1 packet of Luke's Secret Seasoning
Recipe to make an authentic Maine-style Lobster Roll (serves 2)
Label indicating the exact harbor in ME where the lobster was caught
Marine Stewardship Council certification
Ready-to-Cook Maine Lobster Tails Kit
Our ready-to-cook wild Maine lobster tail kits are perfect for grilling, broiling, or steaming! Marinate, grill and eat plain (or dipped in butter!), set atop greens for a protein-packed salad, take your chilled seafood platter up a notch, or incorporate the meat and tail shells into a delicate seafood soup.
The process begins at the dock of our fishermen partners, where we purchase live lobsters daily at market or above market prices and immediately transfer them to our seafood company in Saco, ME. That same day, our team uses liquid nitrogen to flash freeze the lobster tails and hold them at 20 degrees below zero until they reach the shelf. This revolutionary process locks in the freshness at day zero, so the taste, texture, color and moisture is identical to lobster fresh out of the water.
Each kit contains:
2 Raw, Wild-caught Maine Lobster Tails (frozen, raw)
1 Packet of Organic Lemon Garlic Marinade
Tips for thawing, prepping, and preparing grilled lobster tails
Label indicating the exact harbor in ME where the lobster was caught
Marine Stewardship Council certification