Main content starts here, tab to start navigating
Purpose
At Luke's Lobster, we work to preserve and strengthen our coastal communities and bring you the world's best-tasting, sustainably sourced seafood for generations to come.
As part of that mission, we've partnered with the Island institute to work on a wide array of issues facing Maine's coastal communities and build new markets for Maine's premium seafood that will drive economic activity in coastal communities.
Through this partnership we will build resiliency in the seafood supply chain and provide opportunities for Maine's fishermen and aquaculturists. This joint endeavor is a continuation of a longstanding collaboration; for years, Luke's and Island Institute have worked to strengthen Maine's coastal economies, partnering with fishermen and community leaders to improve resilience along the shore.
Investing in coastal communities one project at a time.
"Keepers," are Maine lobsters that meet certain size requirements (not too small, not too big and definitely not egg-bearing ladies!) and are allowed to become your dinner. These size restrictions, along with other regulations, make up the backbone of a sustainable approach to fishery management that has played a large role in keeping Maine's lobster population healthy.
Luke's "Keeper Fund" is our charitable collaboration fund which we operate in partnership with The Ocean Foundation. We prefer to call it charitable collaboration rather than charitable giving, because that's what we like to do – collaborate with our partners on the ground to do good work. Sometimes this means a grant to a specific organization, and sometimes it means marshalling Luke's employees to volunteer for a coastal cleanup. Our initiatives are varied but always aimed at furthering the Keeper Fund's mission to:
Keep our coastal waterways healthy
Strengthen economic opportunities for fishing communities
Portland, Maine (March 6, 2020) – Luke's Lobster is delighted to announce the 10 recipients of its 2020 Keeper Fund, a mini-grant program. With a mandate to keep coastal waterways healthy and strengthen economic opportunities for fishing communities, projects selected for funding in 2020 include island and coastal clean ups; educational projects for elementary and middle school students and projects that support aquaculture and the remediation of ocean acidification. Over the course of 2020, the Luke's Lobster Keeper Fund will deploy more than $25k through cash and in-kind contributions.
"All the proposals we received were terrific," said Luke Holden, Founder & CEO of Luke's Lobster. "In addition to providing financial support for these projects, we see an opportunity to help magnify the work these organizations are doing through our marketing and storytelling bandwidth. Through these projects, we hope to create strong and enduring partnerships."
For the first time, the Luke's Lobster Keeper Fund created a formal RFP process by which organizations could apply. This is the second year Luke's has made contributions through its Keeper Fund, last year funding went to the Island Institute to research the ability of kelp farming to reduce ocean acidification and to a number of coastal clean ups, including funding the fourth annual Tenants Harbor Fisherman's Co-op island clean-up, a fishermen-led endeavor.
"As a certified B Corp, Luke's strives to always do better by the communities we live and work in," said Ben Conniff, Luke's Co-Founder and Chief Marketing Officer. "Maine's coastal communities are important to us, whether we're looking at reducing ocean acidification or providing expanded educational opportunities to students, the goal is always for Luke's to have a positive and lasting impact year over year."
The Luke's Lobster Keeper Fund is funded in part through an enduring partnership with Allagash brewing, where $1 for each Allagash White sold at Luke's locations goes into the Keeper Fund up to $10,000 annually. Other funding sources include corporate partners such as Bank of America, as well as fundraisers hosted by Luke's Lobster and a line item for charitable giving in Luke's corporate budget.
Our Impact - Select Projects
2019, Year Two: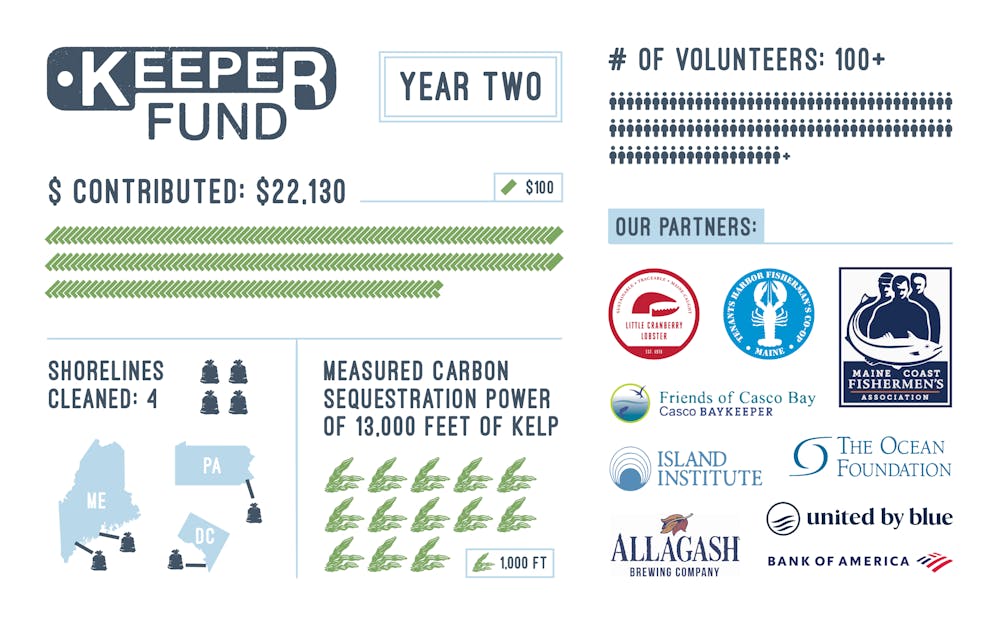 In November 2018, Luke's partnered with the Island Institute to research the ability of seaweed aquaculture to remediate ocean acidification. Ocean acidification is a significant problem in the Gulf of Maine; which is one of the fastest warming bodies of water in the world. Ocean acidification has a negative impact on shellfish, but through this project research conducted by the Island Institute (and others) demonstrated that seaweed aquaculture can help reduce CO2, creating a "halo" effect of reduced acidification. Shellfish (mussels in particular) within the "halo" of reduced acidification showed stronger shells. This research and project is ongoing and we're looking forward to sharing more findings and solutions in the years to come!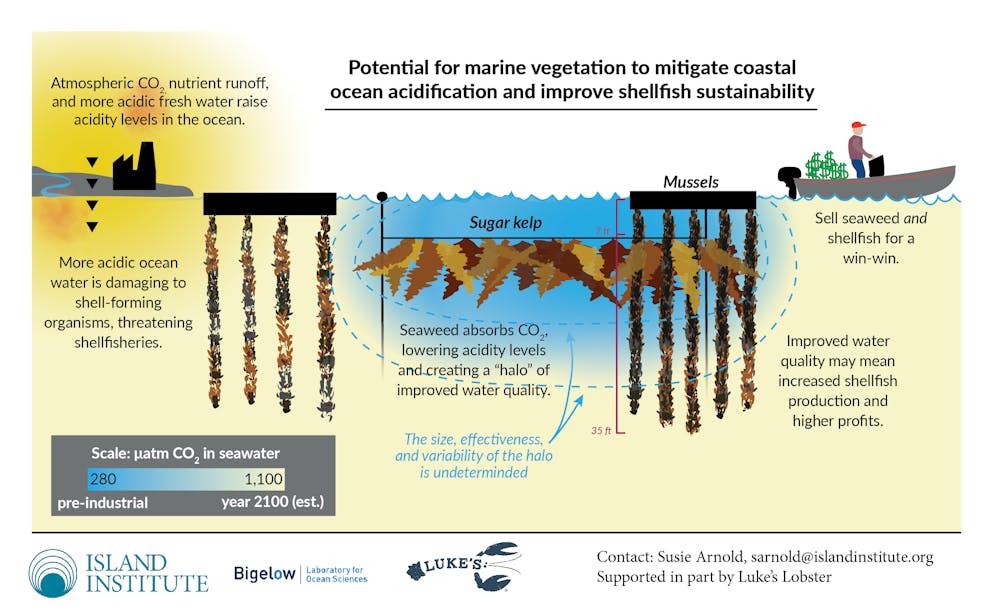 Learn More About The Project
In 2019, we removed over 10,000 pounds of trash from coastal waterways with various partners along the East Coast:
The Casco Bay Clean up with

Friends of Casco Bay

prior to the opening of our flagship shack in Portland to clean up the shore around Portland's Back Cove, a popular running, biking and walking trail.

The 4th Annual

Tenants Harbor Fisherman's Co-op

clean up where we donated $1,500 along with our partners at Bank of America, as well as lobster and crab rolls for volunteers who spent the day cleaning up Matinicus Island, a remote fishing island in Penobscot Bay.

United by Blue

clean-ups - One in Philadelphia where we helped removed 7,469 lbs of trash from the Delaware River and one in DC, where we removed 976 lb of trash from Rock Creek Park and donated lobster rolls for our fellow volunteers.
In 2019, we partnered with Allagash Brewing - a Maine brewery committed to sustainability - to jointly donate $1 to The Keeper Fund for every Allagash White sold at Luke's, up to $10,000 to further the impact we can make this year. We're thrilled to say we hit our goal for 2019 and can't wait to continue the partnership in 2020!
Also in 2019, we gave out our first Keeper Fund Award of $1,000 to the Cranberry Isles Fishermen's Co-op in recognition of their initiative to become the first fishermen's co-op to install a solar array and switch to 100% renewable energy.
In collaboration with Primo's Chef Melissa Kelly and Union's Chef Josh Berry of the Press Hotel, we hosted two ticketed events at our seasonal shack in Tenants Harbor in June of 2019 and raised $4,200 for the Maine Coast Fishermen's Association.
What the Coasts Mean to Us
We started Luke's Lobster in 2009 to bring fresh-off-the-dock lobster rolls to seafood lovers everywhere. Since then we've opened our own seafood processing company based in Saco, Maine, formed innovative partnerships with fishermen up and down the coast, and initiated the Jonah Crab Fishery Improvement Project.
From our fishermen to our teammates, we are wholly dependent on the health of the oceans and economic viability of fishing communities. As we look to the future, we remain committed to our coastal communities - the people and towns where our seafood comes from, and the waterways in and around the cities we call home.
Slide 1 of 6
Slide 2 of 6
Slide 3 of 6
Slide 4 of 6
Slide 5 of 6
Slide 6 of 6
B Corp - Using Business as a Force for Good
Luke's Lobster is a certified B Corporation, a new type of corporation that uses the power of business to solve social and environmental problems. B corporations must meet extensive and transparent performance standards or environmental and social responsibility, transparency and accountability.
From day one with only one small restaurant in New York's East Village to now 28 restaurants and growing, a seafood company, and a fisherman's co-op, we have always placed sustainability, transparency, social responsibility, and taking care of our people as core values. B Corp validates our mission, and a restaurant's ability, to create positive change, not just to make a profit.
Island Institute
In 2020, we partnered with the Island Institute to build resilience in the seafood supply chain and provide opportunities for Maine's fishermen and aquaculturists. The joint endeavor between Luke's Lobster and the Island Institute is a continuation of a longstanding collaboration; for years, these two entities have worked to strengthen Maine's coastal economies, partnering with fishermen and community leaders to improve resilience along the shore.